Yulong Lin
05.08. – 20.08.2017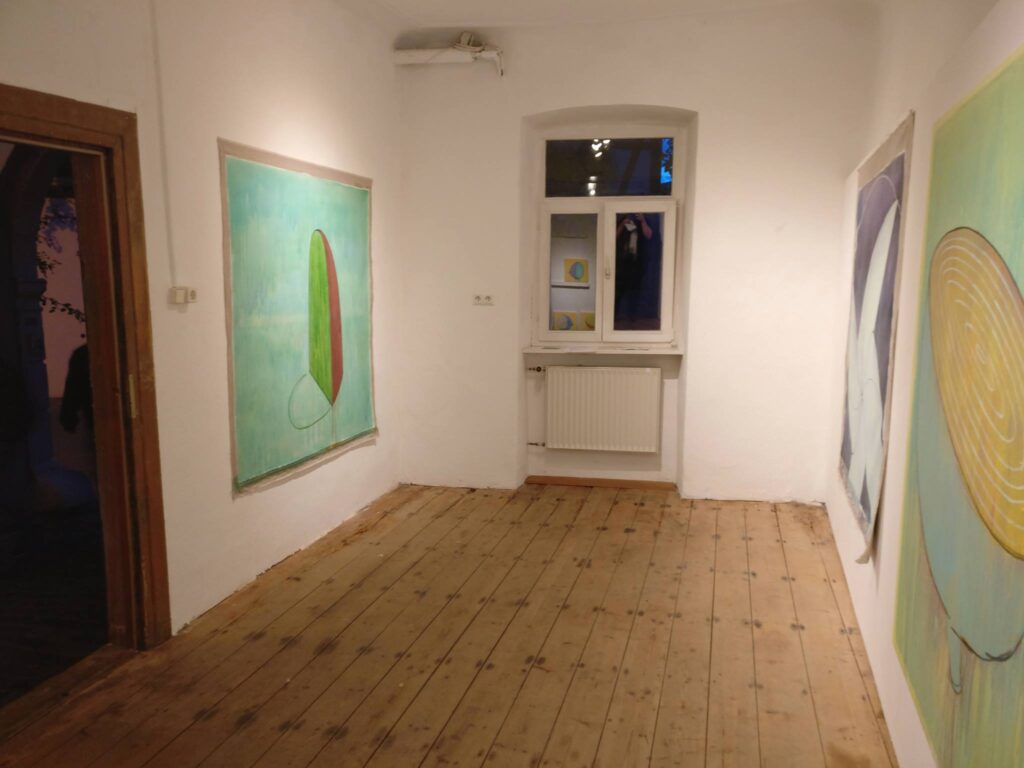 Yulong Lin zieht Inspiration aus dem täglichen Leben. Stoff, Schalen oder gar Zwiebeln tauchen in den Werken häufig auf. Sie werden vergrößert, verkleinert, zerschnitten oder in einem dynamischen Moment erfasst und ihre Räumlichkeit auf studeiner fast schon abkenstrakten in We star studeiner fast schon abkenstrakten seinen Arbeiten entstehen durch vielfältige Überlagerungen der Farbschichten. Diese werden am Rand der Werke für den Betrachter sichtbar gehalten und durch die starken Konturen hervorgehoben. Es geht dem Künstler nicht darum, einen präzisen Moment festzuhalten, sondern einen Prozess über einen gewissen Zeitraum hinweg zu zeigen. Laut dem Künstler handelt es sich bei der Farbüberlagerung um eine Darstellung von Zeitüberlagerung. Insgesamt fangen Lins Werke verschiedene Elemente von Raum und Zeit ein. Sie zeigen "kein Resultat,sondern einen Prozess" wobei die Räumlichkeit der Objekte sowie eine zeitliche Darstellung dieser im Diskurs stehen.

EN
Yulong Lin draws his inspiration from daily life. His works depict everyday objects such as fabric, bowls or even onions. He then alters them in numerous ways such as enlarging, shrinking or cutting them up or recording them in a dynamic moment and studying their spatial manner in an almost abstract way. The visually striking colours in his works are created by adding multiple layers of colour on top of each other, which is visible in the colourflow and the strong outlines. The artist does not attempt to capture a precise moment in time but rather, a process over a certain amount of time that can be seen in the flow of colours. This is one of the reasons the artist claims that the layering of colour is also a layering of time. Overall the works show a process rather than a specific result,where the spatial aspects of the depicted objects as well as their portrait in a period of time are represented in Yulong's discourse of space and time.
Lin Yulong's paintings are not narrative works, but return to the picture itself to discuss the point, line, plane, space and time of painting. The author draws on some forms and objects that can be seen everywhere in life. By magnifying, folding, cutting, and capturing some dynamic moments of these objects, we seek the space and structure of objects from these figurative shapes. Lin Yulong's works usually have very strong and rich colors. These colors are not done all at once, but through multiple transparent color overlays to achieve the final effect. For the author, the layered superposition of this color is also the shaping of a spatial relationship. And this spatial relationship also contains the concept of time. Viewers can see the colors below from the edges of the frame and even through the colors on the surface. The author believes that the superposition of this level is actually a record of time. The final result of the picture is not a simple moment, but a record of a process.